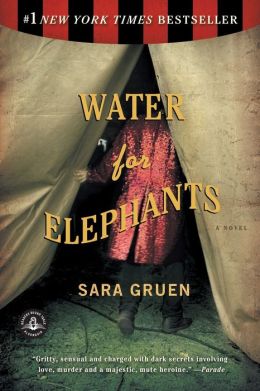 Title: Water for Elephants
Author: Sara Gruen
Publication: May 1, 2007
Series: None.
Format: Ebook
My Rating:
♥♥♥♥
Summary:
Orphaned, penniless, Jacob Jankowski jumps a freight train in the dark, and in that instant, transforms his future.
By morning, he's landed a job with the Flying Squadron of the Benzini Brothers Most Spectacular Show on Earth. By nightfall, he's in love.
In an America made colourless by prohibition and the Depression, the circus is a refuge of sequins and sensuality. But behind the glamour lies a darker world, where both animals and men are dispensable. Where falling in love is the most dangerous act of all...
My Review:
I thought this was a great book. I saw the movie and I think this was a good book to movie adaption. It all went good. I hate animal abuse and I just couldn't bear to read August hurting Rosie. It was so sad. I think the reason I gave this 4 stars was because it took a long time before I really got into the book.
- Jacob I thought Jacob was a great character. There were so many tragic parts through this book. You can see how cruel so many people can be. I am really glad with how it ended.
Again, I know this isn't a full review but I am not sure how to fit everything into a review at the moment. I was glad with how it ended and thought that Rosie was my absolute favorite character even though she is an elephant. I loved her more than anyone in the book.