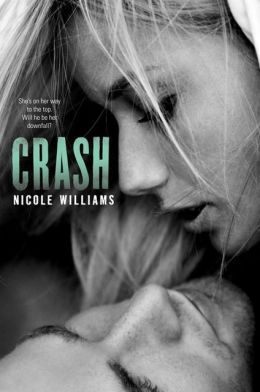 Title: Crash
Author: Nicole Williams
Publication: December 18, 2012
Series: Crash #1
Format: Ebook
My Rating:
♥♥♥♥♥
Summary:
Jude Ryder and Lucy Larson are this generation's Romeo and Juliet: Explosive. Sizzling. Tragic.
A steamy summer encounter with bad boy Jude means trouble for Lucy. Her sights are set on becoming a ballerina, and she won't let anything get in her way . . . except Jude.
He's got a rap sheet, dangerous mood swings, and a name that's been sighed, shouted, and cursed by who knows how many girls.
Jude's a cancer, the kind of guy who's fated to ruin the lives of girls like Lucy—and he tells her so.
But as rumors run rampant and reputations are destroyed, Lucy's not listening to Jude's warning. Is tragedy waiting in the wings? This racy romance is hot, hot, hot!
My Review:
"How does a guy like you promise someone forever at eighteen?"
"Easy," he said, pressing a soft kiss into the corner of my mouth. "He finds a girl like you."
I loved this book so much. This was on the first books I added to my TBR when I first joined goodreads in 2013 and I am so glad I finally got around to reading it. I want to keep reading it over and over again because this was amazing. This book made me cry and laugh so many times I lost count.
- Lucy
I loved Lucy's character from the beginning. She is so funny and awesome. I was so sad about her dog though. Am I the only one who wanted the dog to stay through the whole book? Anyway, I just wished she didn't jump to conclusions so fast though. She did that so many times through the book. I loved how this ended for her and I can't wait to see what happens in the next books in the series.
- Jude
Oh my god Jude is amazing. He does have quite a temper though, I wouldn't want to get on his bad side. He is protective and an awesome boyfriend, more than he gives himself credit for. This ended well for Jude as well. Perfect. I now love Nicole Williams, I was really impressed with her writing.
Overall, if it wasn't obvious, I loved this book. I have already requested the second book in the series from my library and I can't wait to get started on it. There was a lot of drama in this book and freaking amazing romance. I ca;t wait to see where Lucy and Jude takes me next.