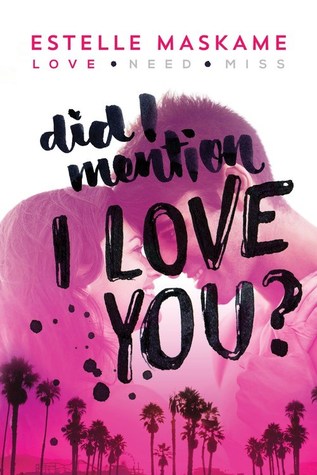 Title: Did I Mention I Love You?
Author: Estelle Maskame
Publication: July 1, 2015
Series: DIMILY #1
Format: Ebook
My Rating: ♥♥♥♥♥
Summary:
When sixteen-year-old Eden Munro agrees to spend the summer with her estranged father in the beachfront city of Santa Monica, California, she has no idea what she's letting herself in for. Eden's parents are divorced and have gone their separate ways, and now her father has a brand new family. For Eden, this means she's about to meet three new step-brothers. The eldest of the three is Tyler Bruce, a troubled teenager with a short temper and a huge ego. Complete polar opposites, Eden quickly finds herself thrust into a world full of new experiences as Tyler's group of friends take her under their wing. But the one thing she just can't understand is Tyler, and the more she presses to figure out the truth about him, the more she finds herself falling for the one person she shouldn't – her step-brother.
Throw in Tyler's clingy girlfriend and a guy who has his eyes set on Eden, and there's secrets, lies and a whole lot of drama. But how can Eden keep her feelings under control? And can she ever work out the truth about Tyler?
Did I Mention I Love You is the first book in the phenomenal DIMILY trilogy, following the lives of Eden Munro and Tyler Bruce as they try to find their way in an increasingly confusing world.
My Review:
✧ I recieved a digital copy of this book free of cost for a read-to-review basis. ✧
Ahh!!! I am soo happy I got to read this book, I loved it. I can't say that I liked all the characters in this book but the storyline was great. I loved the way this book played out. There were a lot of great things that happened through this book, a few boring scenes but I completely bypassed the boring scenes with the romance ones. Eden and Tyler ♡
♡ Starting off into the book, I already started liking it. It was at a great pace and kept me reading, I never had the urge to put the book down and do some sort of other activity. I completely shut everything out and finished this book in 5 hours. I can't express in words how much I loved this book. There were so many great scenes, characters, plots etc..
♡ At first, I was iffy about Tyler, I didn't really like him and I couldn't see how Eden could possibly fall for this jerk. But as he unfolds, it's just truly amazing and heartbreaking. I can say that tears were shed. Many, many tears. I normally don't care for love between brothers and sisters, or even stepsiblings but I couldn't bring myself to ever frown upon their love. What they had was so real, ugh it was beautiful. I can't wait for Did I Mention I Need you? I am dying for it!!