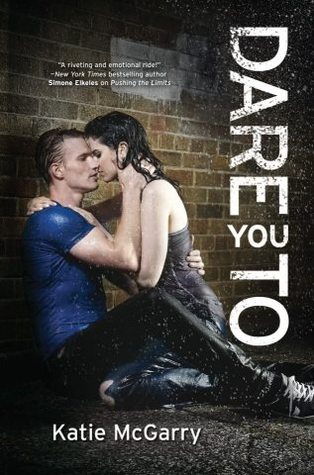 Title: Dare You To
Author: Katie McGarry
Publication: May 28. 2013
Series: Pushing the Limits #2
Format: Ebook
My Rating: ♥♥♥♥♥
Summary:
Ryan lowers his lips to my ear. "Dance with me, Beth."
"No." I whisper the reply. I hate him and I hate myself for wanting him to touch me again....
"I dare you..."
If anyone knew the truth about Beth Risk's home life, they'd send her mother to jail and seventeen-year-old Beth who knows where. So she protects her mom at all costs. Until the day her uncle swoops in and forces Beth to choose between her mom's freedom and her own happiness. That's how Beth finds herself living with an aunt who doesn't want her and going to a school that doesn't understand her. At all. Except for the one guy who shouldn't get her, but does...
Ryan Stone is the town golden boy, a popular baseball star jock-with secrets he can't tell anyone. Not even the friends he shares everything with, including the constant dares to do crazy things. The craziest? Asking out the Skater girl who couldn't be less interested in him.
But what begins as a dare becomes an intense attraction neither Ryan nor Beth expected. Suddenly, the boy with the flawless image risks his dreams-and his life-for the girl he loves, and the girl who won't let anyone get too close is daring herself to want it all...
My Review:
I loved this book! This was a great add on to the series. I did love Pushing the Limits much better but this was a great second. I cried toward one of the ending chapters and I thought the writing was amazing. I love Katie McGarry's writing style and I would love to start the next book as soon as possible. I also really like how Katie does the dual point of views, fantastic.
- Beth
Remember Beth from Pushing the Limits? I did. I am glad this book was written about her and Ryan because I loved looking at both sides point of view. Beth was very aggravating throughout most scenes but I still loved her character. Even though it was stupid to believe her mother would ever change. From Pushing the Limits, I thought Beth was horrible, but we see much better sides of her through this book.
- Ryan
I love Ryan. I love him, I love him, I love him. He is so sweet and so nice and so handsome. He had a great sense of humor and I wish I could write like him, it was beautiful. There is so much to Ryan, especially with his family, that he doesn't show to everyone. I was stunned with how his parents were, I am grateful my family would support me in anything I did. Ryan is an amazing guy and I am so glad Beth found him, or he found her.
Overall, this was an amazing book. I laughed, cried a little, and was in love with this book. I am so excited to get to the next book, I want to read more of Katie's writing and the third book looks promising. I was close to giving this book 4 stars instead but only because of Beth's attitude. Obviously, I understand why she acts like that but it gets annoying after awhile, but I felt that the book overall deserved 5 stars.