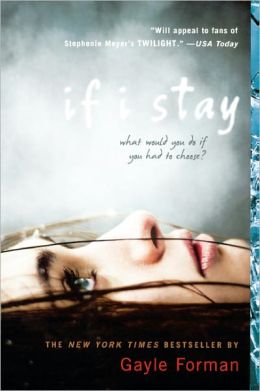 Title: If I Stay
Author: Gayle Forman
Publication: April 6, 2010
Series: If I Stay #1
Format: Ebook
My Rating:
♥♥
Summary:
The critically acclaimed, bestselling novel from Gayle Forman, author of Where She Went, Just One Day, and Just One Year.
Soon to be a major motion picture, starring Chloe Moretz! In the blink of an eye everything changes. Seventeen year-old Mia has no memory of the accident; she can only recall what happened afterwards, watching her own damaged body being taken from the wreck. Little by little she struggles to put together the pieces- to figure out what she has lost, what she has left, and the very difficult choice she must make. Heartwrenchingly beautiful, this will change the way you look at life, love, and family. Now a major motion picture starring Chloe Grace Moretz, Mia's story will stay with you for a long, long time.
My Review:
This was an ok book. I was really starting to like it after the first chapter, but then everything went downhill from there. The thing that bothered me most was all the flashbacks. I'm okay with a few but this was an overload of them. I didn't cry like I'd thought I would, and the ending was so predictable. There were a few nice scenes which made me want to give this book 2 stars instead of just one. Only after I finished this book did I watch the movie and I have to say that I enjoyed the movie so much more than the book.
- Mia
I don't really know how I feel about Mia. She was a nice character to read and I find it unique that she plays the cello. I didn't love her, but at the same time I didn't quite hate her, she was just okay. She was pretty dull. It was really hard to connect with these characters honestly.
- Adam
I think Adam was the only good part in this book. There were some ridiculous moments though, "play me like a cello" ... no. I just felt awkward reading that part and just quickly skimmed through that. But Adam is a nice guy overall, he seems too perfect like a dream come true.
I think that was the major issue with this book. Everything seemed too perfect, of course not the crash, but the parents Mia had are the dream parents that every teenage daughter/son wished they had.
Overall, I couldn't connect with any of the characters in this book. Don't get me wrong there were a few scenes I liked but that's it. Everything else was just so dull and I think the best thing that happened in the book was at the end, when I finished. I was just so glad to be done with the book, I was happy it was a short read because I don't know how I could have gone 200 more pages of flashbacks and bleh. I really did want to love this book, but it just wasn't the book for me.